As I've mentioned in previous posts, I'm really trying hard to stick to this healthy eating kick. This post is focusing on health cleanses and detoxes that supposedly are good for the body! There are so many out there and I found it to be very overwhelming until one day a simple solution came to me from the one and only dr. Oz.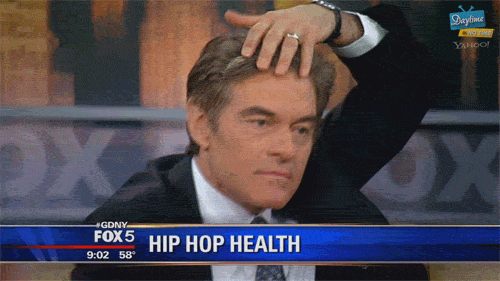 https://giphy.com/embed/Z7ehQXaZoV5Ze
Ever since the Dr. Oz show started airing, I have always been intrigued by it! I think the information that he shares on his show is useful, interesting and practical.
On the episode I watched, Dr. Oz was sharing information on a 3 day detox plan. The main focus in this detox is to fuel the body with healthy ingredients and to flush out any unwanted gunk in our bodies. The mission of it is supposed to make your body feel fresh. It seemed really simple watching him explain it.
How it works. 
There are three smoothie drinks ( breakfast lunch and supper drinks)
Each day, take one multivitamin, and one probiotic supplement.
One snack is allowed per day ( repeat favourite drink)
On the website, Dr. Oz includes a shopping checklist of all the things needed for this cleanse. I thought this was super helpful and made the shopping process less intimidating. The only things I had never bought before were almond milk and coconut oil ( I bought both these things at costco).
I am on day two of this detox and I'm finding it really hard. I find myself being really hungry by the time suppertime comes around and I always want to eat more than just a smoothie. One more day, I can do this!
My drink of choice:
From this detox, I have decided to feature my favourite drink. The "lunch drink" is packed with nurtrients. In one drink you will find
1 cucumber
4 celery stalks
1 cup kale
1/2 a lime
1 cup pineapple
1/2 cup almond milk
1 tablespoon of coconut oil.
OKAY.. When I first tried this I said "ew!!". The colour thew me off and I found it very vegetable tasting, something I don't really love. Today, I added a few more pineapples and it made it a lot better!